NOTE: This is exactly what I described in my book "Mind Control 101"
~ Dantalion Jones
'Paranormal State' Ad Billboard Makes You Hear Voices

The outdoor billboard that displays an ad for Paranormal State, a ghost-themed series premiering on A&E this week, uses special technology to transmit sound so close to you that you think its inside your head.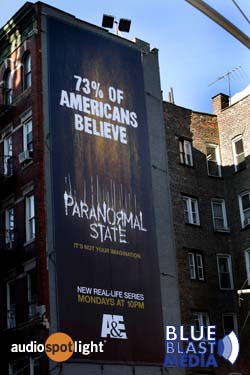 (Paranormal State ad makes you hear voices)
As you walk by, the sound of a woman's voice whispers "Who's that? Who's there?... It's not your imagination." Advertisers describe it as a "chilling message."
The technology is created by Holosonic; the device is effectively an "audio spotlight" that can project sound literally right into your ears.
Previously, this technology had been used in places like museums or libraries; it creates an isolated experience while not disturbing those in the general area.
I'm guessing some readers might be disturbed by the idea of an ad that is beamed right at them as they walk down the sidewalk. However, cheerful Joe Pompei, president and founder of Holosonics, knows you'll come to love the technology:
"If you really want to annoy a lot of people, a loudspeaker is the best way to do it," he said. "If you set up a loudspeaker on the top of a building, everybody's going to hear that noise. But if you're only directing that sound to a specific viewer, you're never going to hear a neighbor complaint from street vendors or pedestrians. The whole idea is to spare other people."

"There's going to be a certain population sensitive to it. But once people see what it does and hear for themselves, they'll see it's effective for getting attention," Mr. Pompei said.
I find myself wondering if perhaps there will be an increase in the number of people who check themselves into mental health services for a quick schizophrenia check-up.
Take a look at this amusing and descriptive video about audio spotlight technology. You can get some idea of what it's like by checking out this google video - Paranormal State sonic wallscape ad video.
Update 14-Dec-2007: It occurs to me that there is a pretty good sf precursor to this device - the subliminal billboards from J.G. Ballard's 1963 story The Subliminal Man: